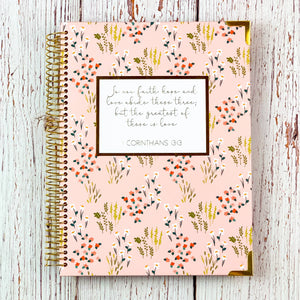 + The Guided Bible Study Journal is a beautiful, joyful, guided journal for busy women in all seasons of life who want to study God's word. 
+ These gorgeous journals are printed on thick and luxurious 80 lb paper for virtually no bleed through. They can handle heavy pens, stickers, washi tape and just about anything else you can think to use! 
+ Our journals include detailed instructions for inductive Bible study, SOAP journaling, verse mapping, and summary journaling to help inspire and provide direction for your study time. We designed the double-page spread layout to be versatile so you can make this journal work for you. This journal also makes a wonderful sermon notes journal. 
+ 7.75 x 10 inches * 200 pages * 80 lb paper